Company
S.O.L.A.S. snc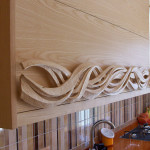 Since 1972 the carpentry workshop of S.O.L.A.S has been creating interior decor and furniture of unquestionable value. Our company is located in the beautiful hill town of Orvieto Umbria. We offer customers products that are the result of careful research, and over forty years of experience. The clientele of S.O.L.A.S. come from all over the world, as their style is perfectly suited to every need.
Today, our company produces work with the combination of artistic manual craftsmanship and modern technology. The ability of our staff allow today's era of computer aided manufacturing to enhance the style and personality of our products, and sets us apart from the concept of mass production.
For each project we carefully select the wood at the time of purchase, in order to assess the seasoning (which must be a minimum of four years). The care and good taste of the work of S.O.L.A.S is highlighted by the details such as the choice of the wood grain so that the eye receives the impression of continuity in each piece.
Over the years the S.O.L.A.S. snc has been enriched with new artisans, trained within the company itself, which has been transferred to the technical and human heritage, which characterizes our company and is its primary values.
Manual dexterity is complemented with new technologies, providing a flexibility for fulfilling customers wishes, both traditional and modern.
Our passion for our craft is combined with a love of nature that is our primary supplier. A love that is expressed with the use of plants and products with a low environmental impact.